New Suzuki
Grand Vitara
Models
Click on a model to reveal its summary details
Grand Vitara 3 Door
VVT 2.4L 4 Cyl. Petrol engine
Standard 5-speed Manual transmission
Optional 4-speed Automatic transmission
4WD
Seats - Cloth
Airbags - SRS dual front airbags
16" Steel Wheels
Air Conditioning - Climate control
Audio System - CD Tuner with MP3 play back
Cruise control
Grand Vitara Diesel
DDiS 1.9L 4 Cyl. Turbo Petrol engine
5-speed Manual transmission
4WD
Electronic Stability Program (ESP)
17" Alloy Wheels
Air Conditioning - Climate control
Audio System - CD Tuner with MP3 play back
Cruise control
Reverse Camera
Grand Vitara Prestige
VVT 2.4L 4 Cyl. Petrol engine
4-speed Automatic transmission
4WD
Audio System - 7 speakers
Satellite Navigation Infotainment system
Seats - Leather
18" Alloy Wheels
Fog Lamps
Sunroof
Grand Vitara Sport
VVT 2.4L 4 Cyl. Petrol engine
Standard 5-speed Manual transmission
Optional 4-speed Automatic transmission
4WD
Bluetooth® connectivity
Satellite Navigation Infotainment system
17" Alloy Wheels
Air Conditioning - Climate control
Cruise control
Reverse Camera
Grand Vitara Urban
VVT 2.4L 4 Cyl. Petrol engine
Standard 5-speed Manual transmission
Optional 4-speed Automatic transmission
4WD
Seats - Cloth
16" Steel Wheels
Air Conditioning - Climate control
Audio System - CD Tuner with MP3 play back
Cruise control
Reverse Camera
Grand Vitara Urban Luxury
VVT 2.4L 4 Cyl. Petrol engine
Standard 5-speed Manual transmission
Optional 4-speed Automatic transmission
4WD
Bluetooth® connectivity
Satellite Navigation Infotainment system
17" Alloy Wheels
Leather wrapped steering wheel
USB connection
Reverse Camera
Grand Vitara Current Stock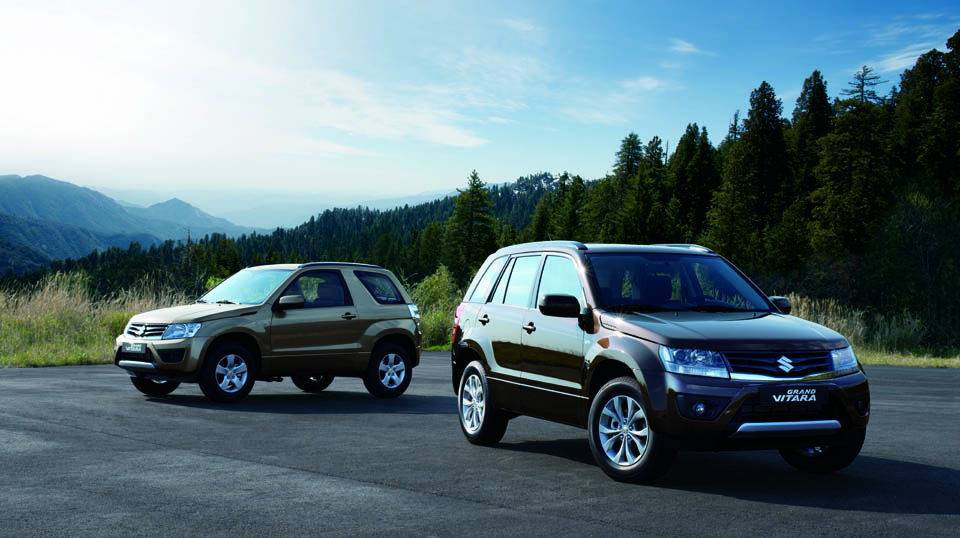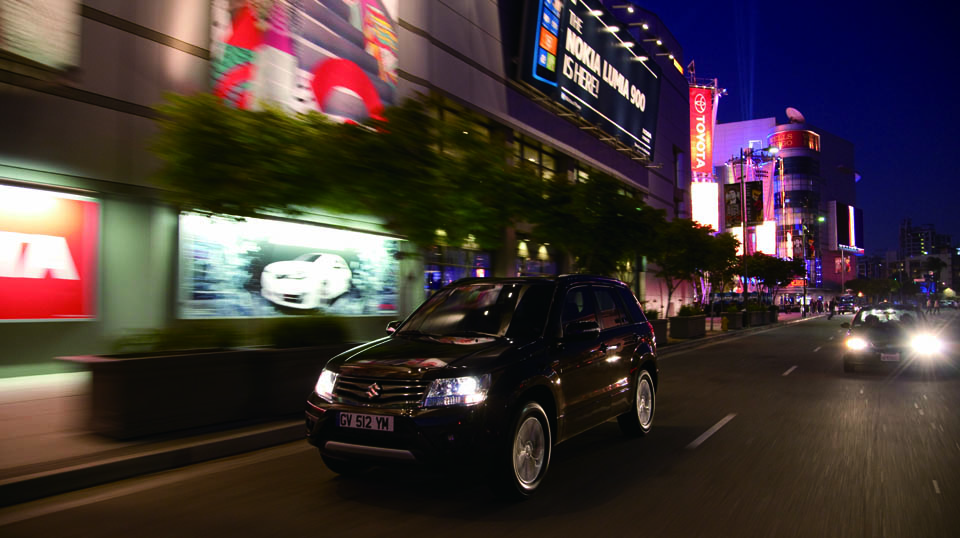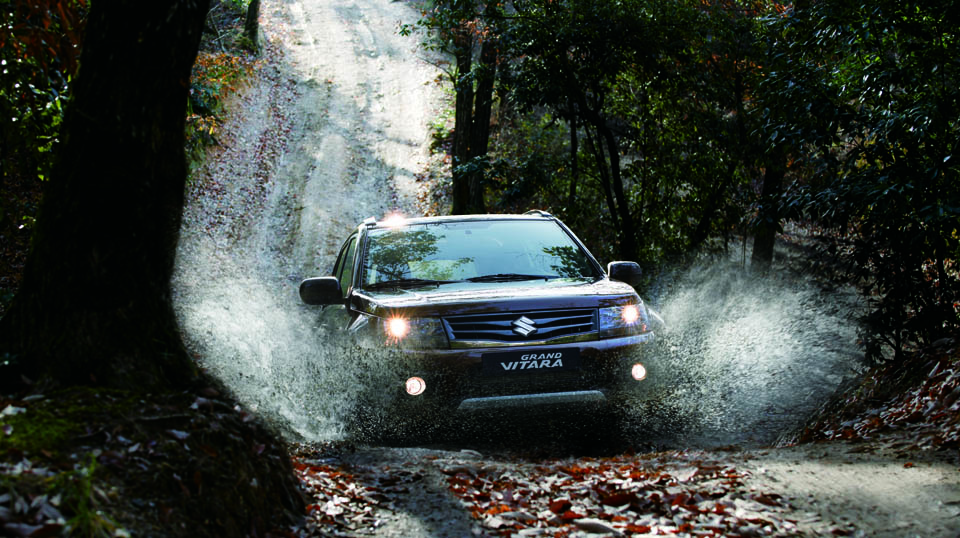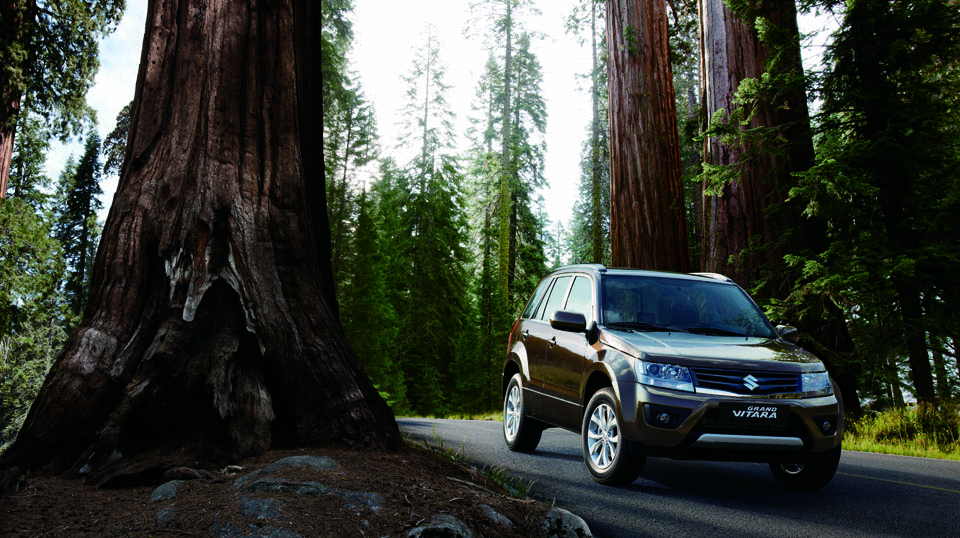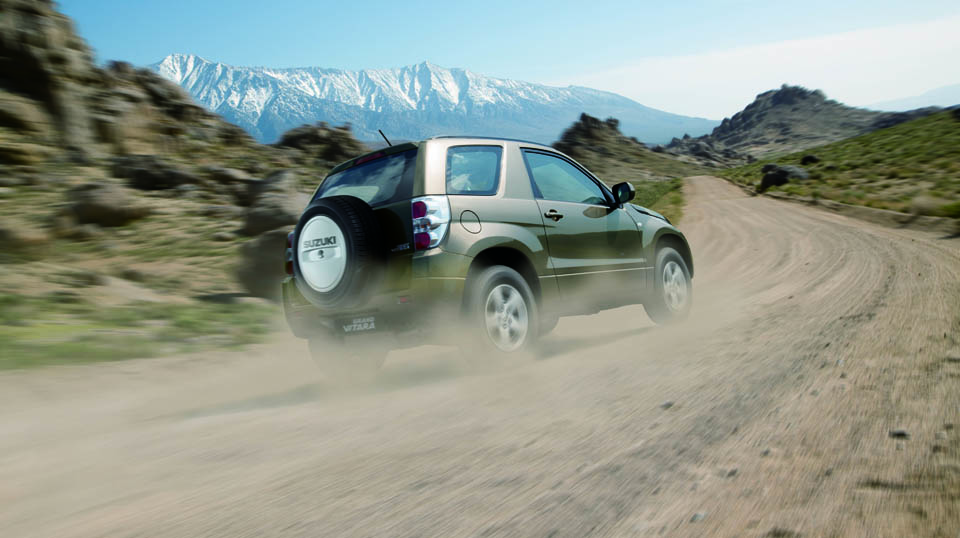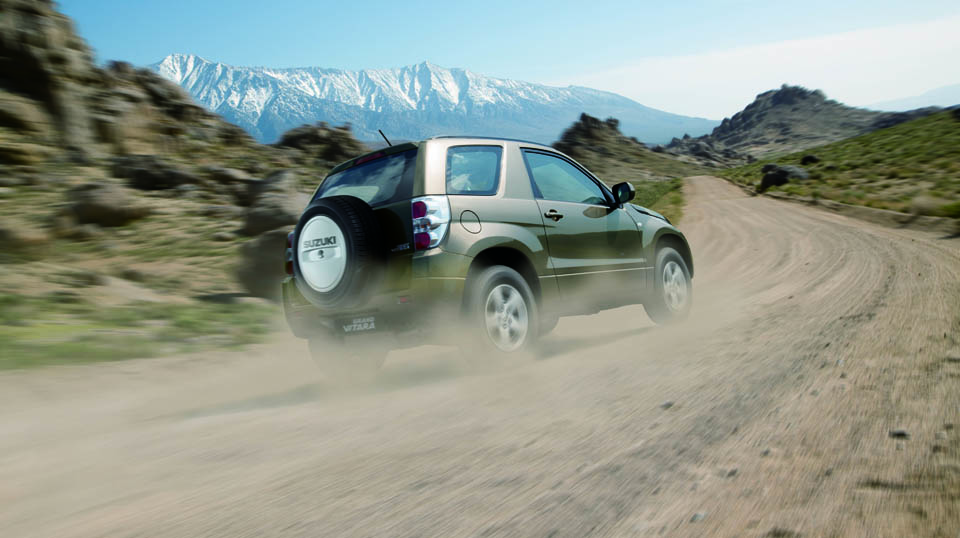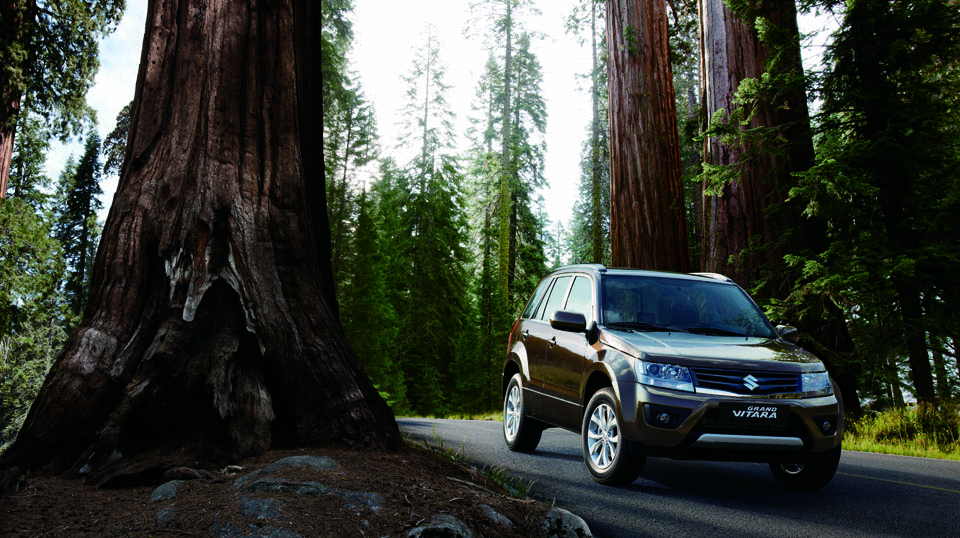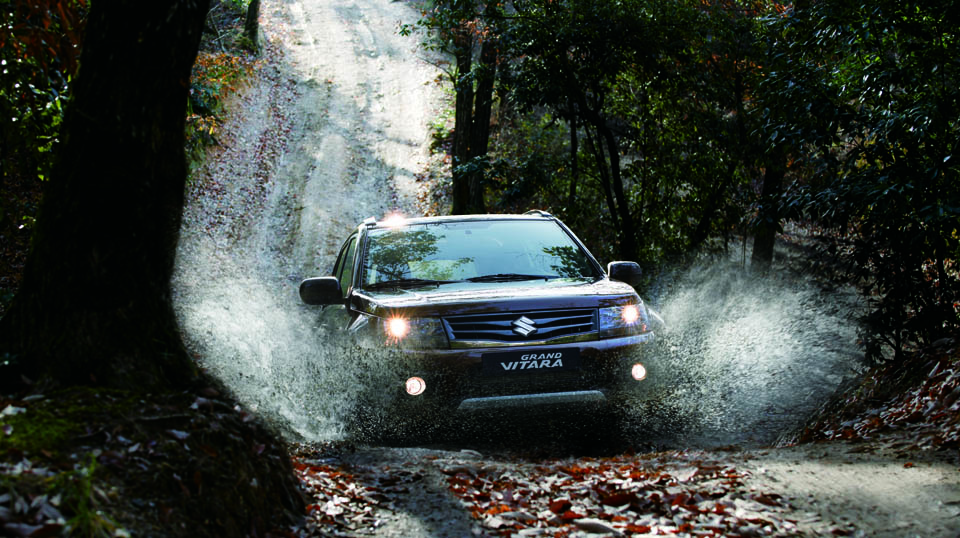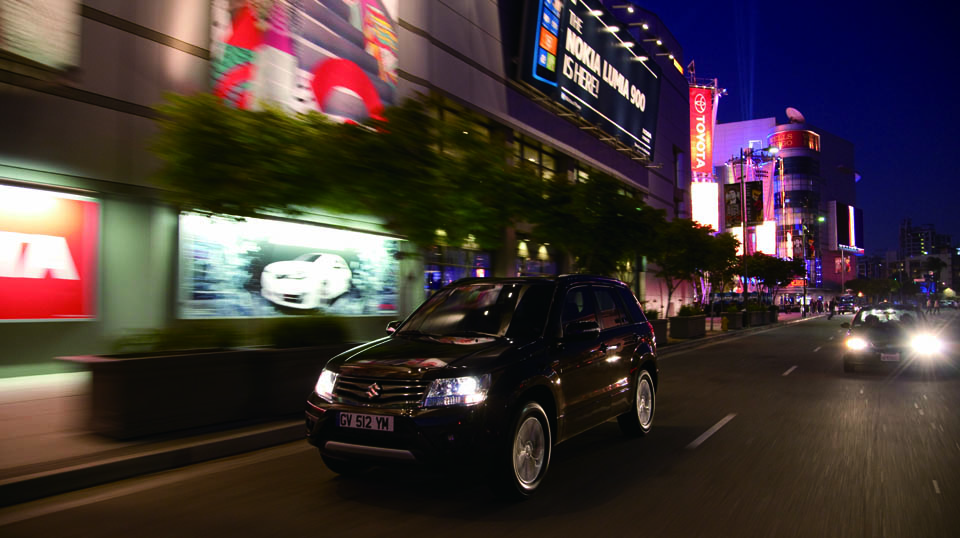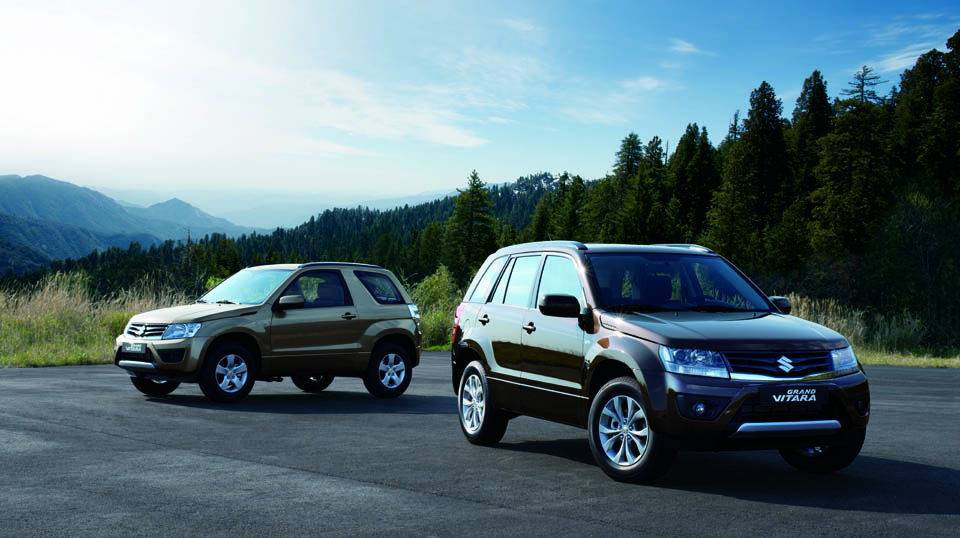 Overview
Whether you're taking the kids to their weekend sports, packing up the mates for a weekend getaway or dressing up for a night out, the Grand Vitara will fit into your active lifestyle. Now with a choice of 2WD or Australia's first and most awarded 4WD, heaps of room, clever technologies and fresh styling, the Grand Vitara owns any environment.
Features
Fuel Economy
The Grand Vitara delivers powerful performance with outstanding fuel economy starting from 6.8L/100km (MT) on Diesel, 8.7L/100km (MT) on Urban and 8.8L/100km (MT) 4WD models. It's even been named one of the most economical compact SUV's by NRMA in 2012.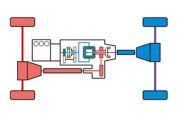 True 4WD
This 4-mode 4WD system lets you easily change between 4H for most driving conditions, 4H Lock for serious off-road driving, 4L Lock for extreme conditions and N mode for towing.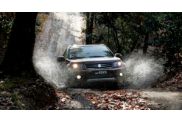 Monocoque Body
Unlike other SUV's, the Grand Vitara exterior can handle serious off-road driving with its monocoque body and built-in ladder frame chassis for extra strength and rigidity to better withstand road shock and body flex.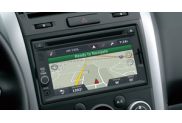 Intelligent Infotainment System
With a simple voice command or touch of a screen you can dial a phone number, play your favourite music or locate an address using the Grand Vitara infotainment system. It also interfaces seamlessly with your digital devices and mobile phone through USB and Bluetooth. Optional for 3door, Diesel and Urban models.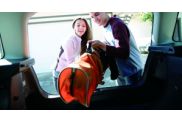 Luggage Space and Flexibility
The Grand Vitara interior's 60:40 split rear seats in the 5 door models, 50:50 in the 3 door models and large cargo gives you all the space and flexibility you'll need for anything from sporting equipment to bulky luggage.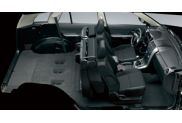 Ride in Comfort
Whether you're driving yourself to work, the kids to their sporting activities or your mates for a weekend adventure, the Grand Vitara interior has enough room to ensure every drive is easy and fun.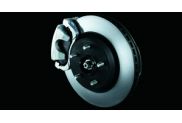 ABS with EBD and BA
ABS prevents wheel lock-up during heavy braking. EBD regulates brake pressure to reduce stopping distances. BA applies additional brake pressure in emergency braking.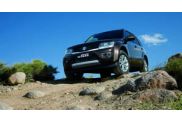 Hill Hold Control and Hill Descent Control
HHC assists in hill starts by keeping the brakes applied for a few seconds after the driver has released the brake pedal to avoid roll back. HDC automatically adjusts braking pressure to slow the vehicle's speed for a smoother, more controlled hill descent.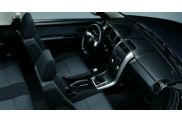 Front seatbelts with pretensioners and load limiters
Pretensioners tighten seatbelts to maximise car safety in the event of a mishap. Load limiters soften the load on the driver and passenger to minimse chance of injury.
Colours
3 Door

Bison

3 Door

Nocturne Blue

3 Door

Platinum

3 Door

White Pearl

3 Door

Silky Silver

3 Door

Quasar Grey

3 Door

Phoenix Red Pearl

3 Door

Bluish Black Pearl

3 Door

Gaia Bronze